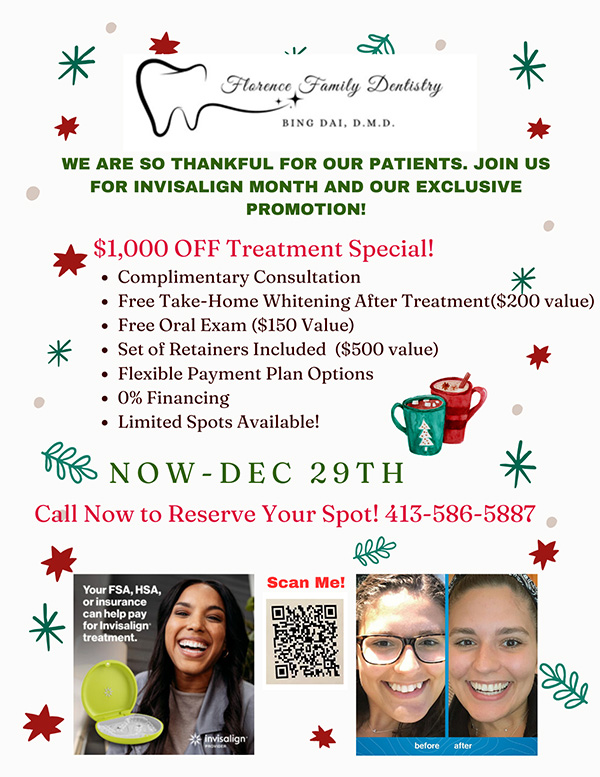 Florence Family Dentistry has been providing dental care to the Northampton/Florence area for over 50 years. At our state-of-the-art dental office, we deliver the highest quality family, cosmetic, restorative and implant dentistry. Exemplary patient care, outstanding aesthetic results, compassion and integrity are the cornerstones of our dental practice.
Your visits with us are all about you – your happiness, your comfort and your overall satisfaction. Among our most important functions is to educate our patients as to their treatment options. We strive to help you maintain healthy teeth for life in a relaxed, friendly atmosphere where your needs and well-being are our highest priority.
Our mission is to guide our patients along a path of optimal dental health by delivering the highest possible level of care in a friendly, safe, and comfortable environment. Through our team of professional, compassionate, and committed employees, we aim to improve patient health, appearance, self-confidence, and overall quality of life.
We invite you to contact our office to learn more about achieving the smile of your dreams.
Our practice proudly offers the following services:
Comprehensive Dental Examinations
Periodontal Procedures and Treatment
Orthodontics - Invisalign®
Tooth Whitening
Family Dentistry
Extractions
Veneers
Dentures
Crowns
Implants
Cerec Crowns
Bridges in a Day
Snoring Treatment
Bruxism Treatment
Digital Xrays
Sedation
At our dedicated Dental practice, we recognize the trust our patients place in us, and it is our mission to meet and exceed those expectations. You are invited to come to the practice and receive the quality attention that you deserve. We will take the time to care for you and your dental health.